Dino Filias

Embraces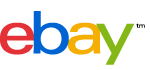 What can I say? eBay is one of the best auction-type sites available. You literally have the opportunity to have a virtual "garage sale" all the time, and there are no boundaries! eBay has also made the transaction process simple, by allowing you to accept credit card payment through Billpoint! Awesome!!

One of it strengths is also one of its weaknesses. eBay allows people to sell things almost anonymously on the internet, which might make buyers reluctant to purchase. To add some sense of security to buyers, I have verified my identity using eBay's "third party" verification through Equifax.

I also believe in a universal integrity in which all people possess. I try to be as descriptive as possible in the things I sell. If you have a question about an item that I'm selling, please email me and get details. I totally believe in open communication. If I try to sell something "Brand New", knowing it has been used for a year, I will only hurt my reputation, since feedback lives with my profile forever.
I look forward to earning all positive feedback. If you are ever dissatisfied with your purchase, please contact me and I will make it right.